Lisa Carter
Dean, Science and Technology
Contact
Biography
I have been a member of the Athabasca University community since 1995. As the Dean of the Faculty of Science and Technology, I am responsible for the management of three academic centres: the Centre for Science, the School of Computing and Information Systems, and the RAIC Centre for Architecture.
I hold a Ph.D. in Immunology from the University of New South Wales. For many years, my research interests included the exploration of how the brain influences inflammation processes.
Prior to becoming Dean in 2009, I served as the Director of Arts and Science where I was responsible for the management of six academic centres. From 2005-2006, I served as Acting Associate Vice President Academic, wherein I was primarily responsible for areas related to student services. The divisions included Office of the Registrar, Access to Students with Disabilities, Counselling Services, Centre for Learning Accreditation, and Library Services. As Associate Professor in Science, I have enjoyed successes in my academic career. I am passionate about science and inspiring those around me. In 2002 I was honoured with the Craig Cunningham Memorial Award for Teaching Excellence.
For me, mentorship and science awareness are a passion. I have been involved in community-based outreach and research activities. These activities include serving as the Director of the Learning Communities Project and the Interim Director of the Athabasca River Basin Research Institute. I am now participating with the Alberta Women's Science Network in a visionary project funded by the provincial government called Bridge to Engineering, Science and Technology Talent, which is an initiative that facilitates re-entry into the workforce of engineers, technologists and scientists who are new immigrants, changing careers or having left their profession for a period of time due to personal reasons.
I have served as Chair of the Alberta Women's Science Network and am a Past President of the Canadian Coalition of Women in Engineering, Science, Trades and Technology. I have developed two undergraduate scholarships in science and computing science.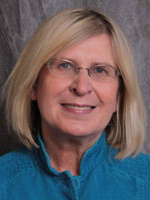 Updated December 11 2014 by Student & Academic Services